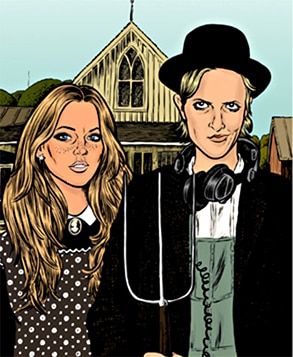 Photo via.
I've noticed with my generation that there is a lack of dating. Isn't dating the way we are supposed to find out if we like someone? It seems like things are working backwards: people meet one another at parties, hook up, and perhaps begin dating after that. I know that there are people out there on dates, but I've found that dating isn't typical among my peers.
I'm confused by this- what is it about dating we hate? Is it too time-consuming for a generation endlessly rushing around? Is it too personable for kids used to the computer screen? According to Journalism professor Daniel Reimold, who interviewed different sex columnists from universities around the country, dating is passé- too boring.
Q: Are monogamy and romance really "dying" on today's college campuses?

A: Yes, along with dating. The columns' declarations about their impending deaths are general or symbolic at times, but the sentiments are clear: Students nowadays exist mainly within a casual-sex-centric or "hook-up" culture. It is a socially ambiguous set-up filled with people whom students randomly meet, sleep with, and never see again, and individuals on students' cell phone speed dial lists available for commitment-free sex after a quick "booty call."
Collegiate couplings exist, columns note, but they skip the courting period, rushing from straight sex to hardcore commitment at a blistering pace and accompanied by heavy drinking and sexual activity typically from a pair's first meeting. As a Cornell Daily Sun columnist once wrote, "People here don't date. They either couple up and act married or do the random one night hook up thing." A separate columnist refers to the loss of what she calls "dating with a lowercase 'd,' " or the more casual one-on-one activities traditionally known as courting that "on the relationship spectrum … falls after hooking up but before monogamous commitment."
Is the Internet to blame for our lack of real life social interactions? Maybe dating isn't casual enough – in many ways, people don't really talk to one another in person anymore, or at least not in the same or as frequent ways. The thought of meeting up with someone for dinner can be rather intimidating: maybe it's just easier to meet that person at a party. There's less pressure and it's not as awkward. But what are we scared of?
Honestly, I was a bit intimidated to go on a date this summer. This is how it played out: After meeting someone at a friend's party, he had posted on my facebook wall that he wanted to hang out. After I saw his wall post I sent him a facebook message, and after some back and forth he gave me his cell phone number. I heard my mom in the back of my head: "you have to put yourself out there!" I texted him. Finally, we agreed on meeting up for dinner.
But in the end, it was great! We went to a low-key dinner, and then walked over to Central Park. We even caught a bit of the New York Philharmonic concert and saw fireworks. Sparks did not fly between the two of us, but I'm ok with that. It was a nice night and I'm glad I went out with him. I feel as if we got over the social networking hump- we sucked it up and met up in real life.
Yes, dating can be awkward and uncomfortable, but so can hookups. It may be different, but it's brave and it's oftentimes exciting. I'm not suggesting that every relationship needs to start in some antiquated way, but I think dating can be an appealing alternative to randomly hooking-up. I'm not sure why so many of my classmates and friends, and seemingly an entire youth culture, oppose what is a quality, controlled method for meeting new people and exploring new flames.
What do you think?